It may not be Buckingham Palace, but the new Crescendo Experience Center was impressive enough to make it on the 2012 World Tour of "The Gadget Show," the most-watched home technology television show in all of Europe.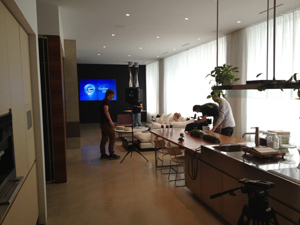 Broadcast to 150 countries around the globe, the popular program showcases the latest and best in consumer technology. Tech-loving presenters Jason Bradbury and Pollyanna Woodward are traveling across the world in its pursuit, visiting locations from Silicon Valley to Abu Dhabi – and Southampton, too.
"While we've always know that the Crescendo Experience Center is the only one of its kind in the United States, to be recognized internationally is just incredibly exciting," explains Chris Brody, President. "It truly represents the very best in high-end design, interior furnishings and home entertainment technology – on a global scale."
"The Gadget Show" 2012 World Tour will begin airing this spring worldwide to more than 1.2 million viewers.