Crescendo Designs is excited to be offering a radical new concept in premium outdoor entertainment, the C SEED 201!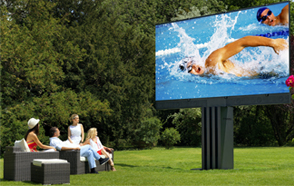 With a push of a button this incredible 201″ display begins to emerge from its protective subterranean shaft as a monolith. In a matter of seconds it soars 15 feet into the sky and seven massive LED panels unfold into a masterpiece of technological sculpture.
"It's a privilege to have been selected as a dealer as they are very exclusive," explains Chris Brody president of Crescendo. "C SEED wants to be sure they have only the best representing them and it's very exciting because this product certainly raises the bar!"
The C SEED 201 was engineered with passion for technical excellence and innovation in collaboration with Porsche Design Studio.
The C SEED 201 is beautiful even in direct sunlight. It features ultra-high-resolution images displayed in 281 trillion radiant colors, is completely waterproof, is loaded with 15 built-in speakers, can rotate 270 degrees and raise or lower in height.   A built in fingerprint sensor on the remote prevents unauthorized use.  A completely Installed system ranges from $850k to $1M.