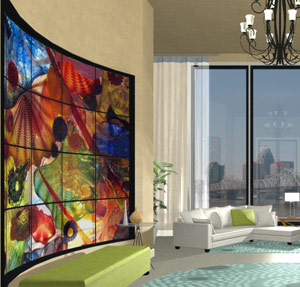 If you can imagine it, you can create it with the new Runco WindowWall™. Part of a unique visual lifestyle solution, its LCD displays enable you to create one bold image—or several—for a visually stunning element that will be the centerpiece of virtually any room.
"This makes a spectacular screen in any game room or video room—or can be used to create one-of-a-kind wall art in any living space," explains Chris Brody, president and CEO of Crescendo Designs. "The opportunities are really endless with this technology."
The Runco WindowWall combines digital photography, PC operation, video conferencing, broadcast programming and more into multiple screens of ultra-slim bezel. It's available in High Bright (HB) and High Efficiency (HE) versions with Runco's optional legendary OPAL™ technology, which enhances image clarity and quality.
Interested in seeing what the WindowWall can add to your home décor? Speak to your Crescendo Designs professional.