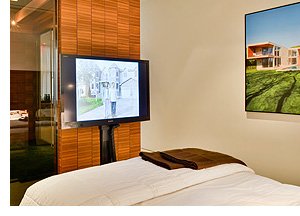 Crescendo Designs has taken the art of combining high-end home technology with great interior design to new heights—and depths—with its revolutionary motorized lift that hides a flat screen television under a luxurious custom bed.
The bed was designed with Savoir, a London-based firm regarded as the world's most luxurious sleeping system manufacturer and uses a Crestron home control system. A simple touch of a button is all it takes for the TV to come up from under the bed and lift to the perfect viewing height.
"At Crescendo, we're in tune with a home's overall aesthetic and are always working with leading interiors companies and our home technology partners to come up with innovative ways to seamlessly and artfully integrate systems into a room's décor," explained Chris Brody, president and CEO of Crescendo Designs. The company also brings similar functionality to both home office and media room designs.
For the home office, Crescendo designed a Crestron-controlled automated television installation. When the TV is turned on, it automatically moves into the preset position facing the client's desk. With the press of a button on the remote, the TV will shift over and face the seating area. Once turned off, it retracts back into the wall so the client—and their office—can get back down to business.
Another Crescendo-designed system enables a client to turn virtually any living room into a theater room. With the press of a button on a Crestron control panel, the projector and screen lowers from the ceiling while Lutron shade lowers to block the light from outside.
Experience these systems—and more—at the Crescendo Experience Center, a state-of-the-art, 2,500-square-foot showroom that features high-end home furnishings, seamlessly blended with the latest in home entertainment technology. To schedule your appointment, contact us.