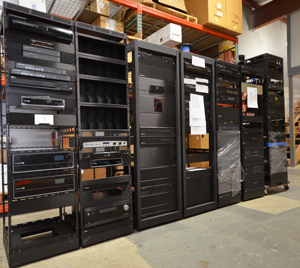 Crescendo Designs architects each home technology system to seamlessly integrate peak performance with elegant design and worry-free, timely installation. That's why Crescendo has been an integral member of the design team behind some of the finest homes from Manhattan to Southampton, according to Chris Brody, President.
"We do all we can to streamline the process," he says. "This includes programming and testing all systems prior to installation, which makes it easier on the homeowner."
Crescendo's three-step approach comprises:
Personal Consultation. We get to the heart of what the homeowner is looking for, review the architect's plans and walk through the home. We then outline the project scope and budget for your approval.
Design. Working with the architect, builder and interior designer, our in-house engineer creates a detailed proposal—with a complete equipment listing and a guaranteed, installed price – to ensure the perfect components for the perfect environment.
Installation. The Crescendo Project Manager works with our in-house team to develop CAD layouts of the furnishings and equipment selections. After we program, test and configure all your equipment in our "clean room," the Crescendo manufacturer-certified team installs all components.
Want to start the process yourself? Contact us.