A Decade Ago…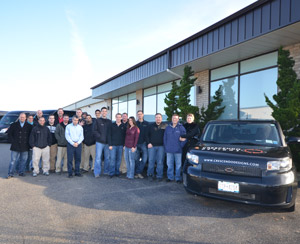 Chris Brody, president of Crescendo Designs, had a fascination with technology since youth, taking apart the nooks and crannies of cars and often reconstructing and substituting improved components, such as upgraded audio systems.
"Chris always wanted to learn how things were put together," said Mike Brody, Chris' brother and vice president of Crescendo. "I, on the other hand, was too busy riding dirt bikes, playing baseball and chasing girls!"
During his college years, Chris started his own online retail business selling audiovisual (AV) products, such as car audio systems. Shortly thereafter in 1999, Chris began selling and installing plasma TVs in homes.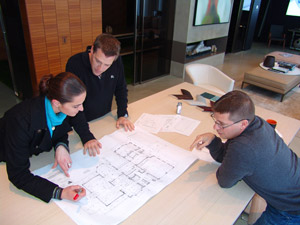 The growing demands of the business, along with the increasing profits from home installations was too much for a college student to manage in addition to juggling academics. It gave Chris the incentive to commit to his work full time, and it wasn't long before Mike was in the picture to help his brother out.
"As the company grew, it became more and more of a home installation type of business," Mike said. "The competition in the online market was growing, and we simply saw more all-around potential with home installation services."
However, the climb to Crescendo wasn't easy right from the get-go.
Time to Get Movin'!

While maintaining the online business, the brothers worked tirelessly until 2002 — even temporarily working out of Chris' garage until they found a space for their installation services to call home.
"The office on Hill Street got us out of Chris' garage so we didn't have to start the car for heat anymore," Mike joked.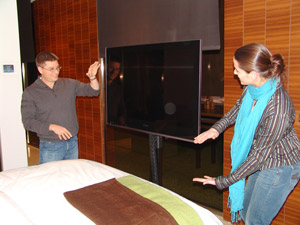 Chris and Mike took a different approach to the AV biz, branding themselves home technology experts under the name "Crescendo Designs."
"We wanted to distinguish our name from all of these 'AV this' or 'AV that' companies you find in the phonebook," Mike said. "AV experts usually have a certain stigma attached – people seem to think it's as if we simply come to your house and plaster some speakers on the wall. There's so much more to it than that."
However, big names in the industry didn't take the early 20-somethings seriously.
"We'd have meetings with these major companies to gain access to higher-end products, and they'd just tell us we were a couple of crazy kids," Chris said.
The team decided to open a public showroom on Main Street in Southampton with the intention of gaining credibility with clients. In fact, the same companies that had once scrutinized Crescendo now offered their support and admiration, encouraging the company to offer and promote their brands.
One year later, the team opened a second location to serve as their warehouse and operations center.
"Opening up our Main Street location proved that we were serious, and in turn, offered a much higher-end client base," Mike said. "We started doing major numbers with lots of products."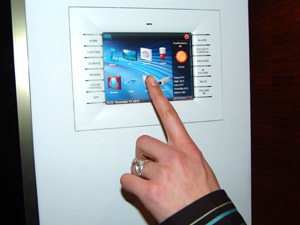 However, the showroom lagged behind the rapid advances of time and technology and began to look outdated.
"Its 'retail store' layout offered us a limited ability to properly show home automation," Chris explained. In addition, the inconvenience of managing two separate office locations inspired one last relocation to the Crescendo Experience Center.
Creating the Crescendo Experience
"The Experience Center shows our vision and the complexity of our service in the same light where you would consult an architect or a designer," Mike said.
Although Crescendo is most prominently known for their work in the Hamptons and Manhattan, they service clients from around the world who are seeking the high-end, most coveted brands on the market.
"What was considered a convenience or luxury a decade ago is now today's standard," Chris said. "Unified home automation is the most popular request we hear these days."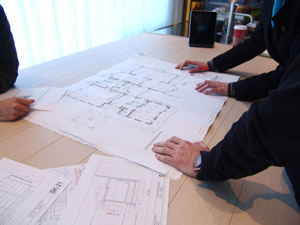 Crescendo's team works directly in the field with architects and engineers to ensure that each project's unique concerns are addressed with a custom design and build.
"Oftentimes we work with these other professionals to ensure that we integrate technology into a space properly; it has to complement the aesthetics of the surrounding overall design," said Jennifer Miller, design consultant at Crescendo. "We have to take all considerations into account, from the size and fit to the architectural elements that influence a room's acoustics."
Jennifer stressed the importance of being involved in every step of a project. "People are sometimes slow to understand that we need to be a part of that inner circle from the beginning in order for the job to be done correctly. The later we become engaged in a project, the less opportunity we have to design and reach that full potential."
Jennifer explained that her greatest joy on the job is presenting a solution to a client that they didn't even know was possible. "We'll have a husband and wife approach us with this argument: the husband wants the huge TV, but the wife doesn't want to see it overrule the bedroom's ambience," she said. "We'll come back to them with a whole immersive setup they both LOVE – and the wife is even pushing for some extra bells and whistles!"
Looking Forward to the Next 10 Years

Crescendo has much to look forward to in its next decade – and beyond – of service to its Long Island, Manhattan and international customers. Equipped with a state-of-the-art showroom that showcases the latest advances in home technology design, Crescendo is building toward a strong future.
As one enters the Crescendo Experience showroom, it's hard to believe that this successful family-run business idea was hatched in a kid's garage a decade ago. Chris, Mike, Jennifer and the rest of the Crescendo team are looking forward to bringing the highest-quality services their customers have come to expect and continuing to be on the forefront of new home technologies.