Crescendo Designs got an insider's peek at the electronic industry's latest innovations at the Custom Electronic Design and Installation Association (CEDIA) – and there was plenty to look at.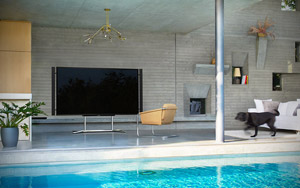 LED TVs and front projection systems highlighted 4K, the best screen resolution offered by current technology. As the home theatre market's new buzzword, a 4K screen offers four times as many pixels (3840×2160) as the resolution of today's 1080p high-definition standard.
Sony unveiled their not-yet-released XBR-84X900. At 84 inches, this is Sony's largest screen to date and one of the first to feature 4K. With 8.8 million pixels, 4K offers the most lifelike and realistic images available on a screen.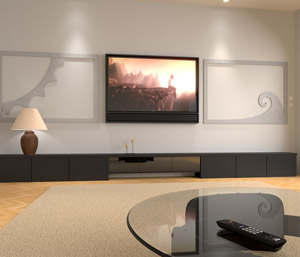 "It's as if you are looking through a pane of glass!" an impressed Chris Brody, president of Crescendo Designs said.
Had Sony been using the new wall mount, "Edge" from Media Décor's presentation, passersby may have mistaken it for an actual window.  The Edge is a custom built wall mount designed to completely seal the top, sides, and bottom of a TV from unsightly wiring, while still providing instant access for cabling and servicing.
Meanwhile, audiophiles' standards were met with the Sonance Landscape Series outdoor speaker display. Holding true to the idea that "sound should be heard and not seen," the speakers are camouflaged to resemble a high-end lighting fixture, and are evenly distributed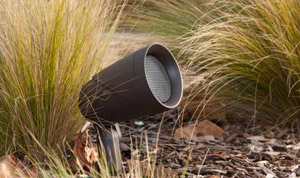 throughout the property to deliver a canopy of sound to avoid hot spots and dead zones. Sonance's parent company, Dana Innovations, promises audio comparable to a high quality home theater system.
Not to be outdone, indoor entertainment exhibits continued to thrive with golf, shooting and racing simulators designed to provide a completely immersive experience.
Interactive Sports Technologies revealed their all-new system that's both a golf simulator and home theater system.  The package includes a desktop workstation, an HDTV compatible projector, a 19-inch touchscreen console, realistic-looking golf courses, golf balls, a club tracking system, nylon golf turf and tee mats.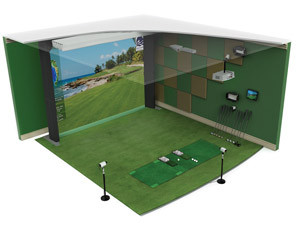 The system can also transform into a home theater system with the ability to connect to any game console, cable/satellite system, or other device with video streaming capability.  In addition, the system features a 250-watt stereo sound system and a built-in DVD player.
"[It offers] more ways to have fun at your home on a rainy day, or just for a party," Brody said.
Crescendo Designs has been a CEDIA-certified member since 2003. CEDIA is an international trade association of companies that specialize in planning and installing electronic systems for the home, such as home networking, home automation, and communication systems, media rooms, single or multi-room entertainment systems and integrated whole-house subsystems providing lighting control, security, and HVAC systems.
Interested in these products? Speak to your Crescendo Designs professional.