Ready to design an extraordinary al fresco entertaining space? Start at Crescendo Designs. We offer the latest in outdoor audio and video technology brought together by design and technical experts who transform your backyard into an entertainment and living space that fits your life – and sense of style.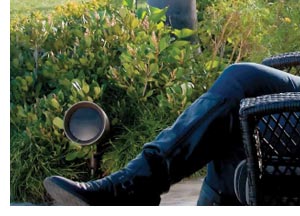 Audiophiles will love the new Sonance Landscape Series. With strategically placed "satellite" speakers hidden within garden beds, bushes and tree foliage, the Sonance system immerses your guests in the highest quality sound, always at the perfect volume, no matter where they are or what they are doing. Better yet, since the speaker system is camouflaged, the music seems to simply come from nowhere.
"Achieving this level of superior sound quality discretely in an outdoor space-with people spread throughout a wide open area, engaged in various activities-has always been particularly challenging," explained Chris Brody, Crescendo Designs president and CEO. "The Sonance Landscape Series makes it possible." A subwoofer enclosure is buried underground or hidden within shrubs, with just an earth-colored hood dispersing sound perfectly.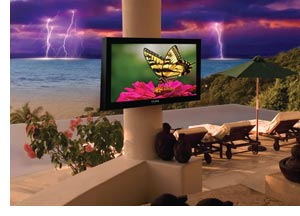 For homeowners who want a little fresh air with their favorite movie or television show, Crescendo offers the new Storm™ outdoor waterproof televisions from Séura®. Available in 42″, 47″ and 55″ screen sizes, all Storm models boast vivid colors and 1080p high definition a clear, beautiful picture-even in direct sunlight. Each television features both an ultra-bright display as well as anti-reflective tempered safety glass that reduces glare for a shine-free picture.
"Storm is perfect for outdoor kitchens, patios and next to pools," added Brody. "It takes al fresco living to a whole new level."
Experience this new outdoor technology-and more-at the Crescendo Experience Center, a state-of-the-art, 2,500-square-foot showroom that features high-end home furnishings, seamlessly blended with the latest in home entertainment technology. To schedule your appointment, contact us.